Software Monetization Models to Make More Money from Your Website
Is your purpose of the website just showcasing your products or services? Do you want a website which markets your products and earns extra revenues as well? So a website which runs and earns for you is the current trend of software monetization for small-scale business owners nowadays.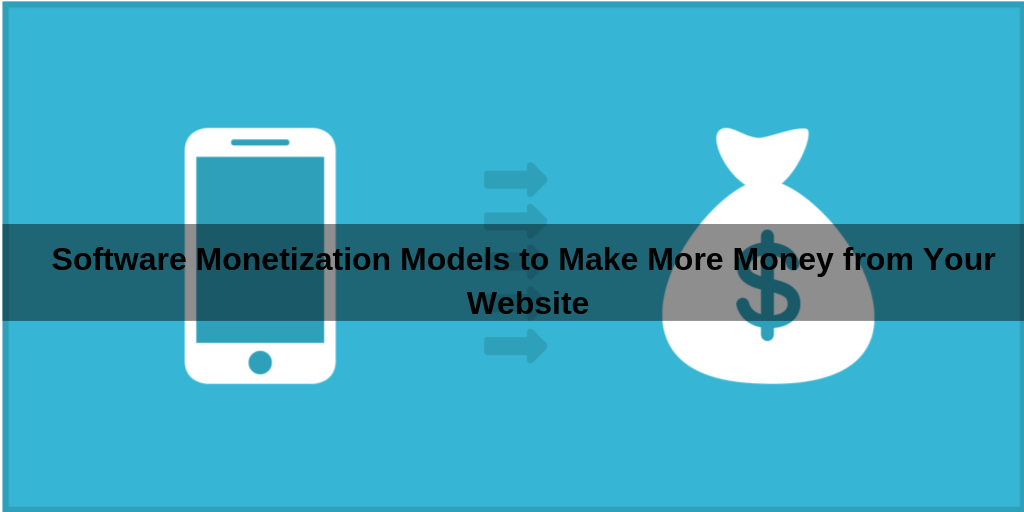 Do you know what is the average Cost Per Install (CPI) in the advertising market? Well, CPI for an iOS app is $1.64 in the U.S and for Android, it is $1.74 to $1.91. The business is huge and lucrative, only you need to know the proper platforms which make you richer.
A Website or a Mobile App Can Serve the Purpose of ROI in Software Monetization
Suppose your website caters the need for the healthcare products and it offers various information regarding those products and payment options to have those. This is your business for which the website was made for. Now, there are many approaches which enable the website to fetch extra income which can serve in recession as well.
Affiliate links
Forrester estimated the growth of affiliated links at $6.8 billion by 2020. The affiliate links are the very popular concept of software monetization world. You can set up a contract with a company, provide the product features and link on your website, ensure its promotions and marketing aspects. And if a user clicks on a link or makes a purchase, accordingly a revenue is generated for the client and you would get rewards for it.
Always ensure that a product for which you are marketing, should be in the interest of you or you have the expert people within your reach. Because then, you can market it full-fledged. Otherwise, you would end up regretting on the affiliate link strategy.
Also, there should be affiliate programs for a product, if something is so specific for which a user doesn't know more and have less market exposure, then stay away from those.
Pay per click
Integration with Google Adsense will make a strong bond with your website and Google. Well, Adsense is quite different, instead, you pay Google for marketing your product, and Google will pay you as well for providing advertisement space on your website. What you have to do is to just establish a space and payment term between AdSense and your website, Google will automatically run ads on your website. You don't have to write any promotion strategies for products, even you don't need to know the products. Google Adsense takes care of it.
Ad Space on a sale
You must be thinking what it actually is? Well, on your website, you can provide a space directly to the companies which search for ad spaces on the internet. You can provide a size of a banner and you would be paid for the number of Clicks per Month (CPM). For example, if CPM is $10, and if monthly 20,000 users click on the link, then you would be paid $200,000 for that month.
Toolbar development
A different approach is to develop and integrate a toolbar which can display advertisements. You can integrate video player, games, and utilities with monetization software. For example, if a user is installing Java, then you can offer him to install eclipse. If a user installs eclipse along with Java, then your toolbar will get money. The Same thing can be implemented for other installations. Here, Pay per Installation (PPI) would apply and you can earn good revenue from
toolbar
development.
Brainvire
has developed many successful toolbars for various clients' requirements.
Just offering website space is not enough, you should generate enough traffic on your website.
For a successful media campaign for in-house products and as well as for the advertisements, there needs to generate traffic to the website. More traffic means more clicks, more clicks means more purchase and more purchase results in more revenues.
Website traffic is more important in terms of attracting and retaining customers. You should design the traffic around targeted users. More targeted users mean more revenues and this targeted users are likely to stay with the website and chances of them referring to other users increases. If a user spends more time on the website, the chances of opting for newsletters or making a purchase significantly increases, which will provide an opportunity to build a long-term relationship with the user. The use of all the means of communication like email marketing and social media networks should be utilized to achieve the desired traffic.
Average CPI (Click per install) has increased up to 40% for Android.
Mobile apps have the advantage of being available anywhere anytime.
Because of the availability of the internet at almost every place around the worldwide, mobile traffic is also a significant factor. Brainvire offers mobile
advertising package
which can connect you with quality resources and provides huge success to the campaign.
Video traffic inventory is to get traffic from perfect videos and images with adequate transparency and reporting tools. Image and video availability creates trusts with the organization as the authority. A video content which involves your business idea, business models, strategies and potentials in a very strong, clear and meaningful way. Older ideas like contents and images don't work in mobile revolution era. So monetization of software is more influenced by video integration to generate more traffic for the web.
Summary
Software monetization demands continuous and innovative efforts. One has to try and create new ideas to reach out to maximum users and sustain that. Various monetization models and strategies provide different ROI options. The important fact is to find out a best-suited model for your application in terms of present scenario and future scalability.