Windows is one of the fastest growing platforms for developing phone as well as tablet applications. Amidst so many platforms prevailing in the market like Android and iOS, it is really appreciable to make away and walk through.
However, windows phone apps development did that and made its place in the mobile application market!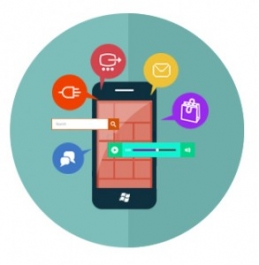 If you are in the search of the best windows phone and windows tablet apps development company, you can choose us without giving it a second thought, as we have got a team of expert windows application developers.
We deliver innovative high-class apps that enhance user productivity.When it comes to windows phone applications development, we are capable of handling large products and also care to take the small ones.
Whether you want a business, branding or marketing apps, you can get them developed from us and we promise to deliver them quickly and cost effectively. We do the quality work; so trust us for once and we promise to go beyond your expectations.
Our windows phone app development service is totally transparent to our clients, as our team of collaborative windows app developers discusses before and after every step of the project until it gets completed. They have got a sound knowledge of the use of latest software and technologies.
The team has attained expertise in developing windows mobile applications, as it has been into the windows phone apps development field for a lot of years now. The developers have got all the technical skills and communication skills which they use to provide professional as well as friendly services to their customers. In addition to that, they understand the exact requirements of all the clients so that they can help them achieve the mission and vision of their business.
Budget friendly
Quality
Versatile
Quick delivery
Trustworthy